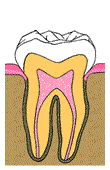 What is a Root Canal?
Is a Root Canal for You?
What is Involved in a Root Canal Procedure?
Is the Root Canal Procedure Painful?
Will I Feel Anything After Root Canal Treatment?
What is dental pulp?
How will my tooth feel after root canal therapy?
Can a root canal tooth still get a cavity?
Why can't I just take antibiotics?
Will the abscess affect my other teeth or my body?
What are the alternatives to root canal treatment?
How does the type of restoration (filling) affect treatment?
What other factors effect root canal treatment?

What is a Root Canal?
A root canal is the common term for treatment of an infected or inflamed dental pulp, also known as an abcess. It consists of removal of the affected tissue inside the tooth, cleansing and debridement, followed by a root filling. Bone loss around the roots of the teeth may be present depending on the extent of the problem, but this generally repairs within 6-12 months in healthy patients.
Is a Root Canal for you?
Do you have any of the following symptoms?
Sensitivity to hot or cold that lingers
Discomfort when chewing or biting
Dull ache
Discomfort that wakes you up at night
Your dentist has diagnosed the need for endodontic treatment either by clinical exam or x-ray
If you answered yes to any of the above, you might very well need a root canal.
Please call and schedule for an evaluation.
Be aware not all teeth that ARE in need of root canal therapy will cause pain. It is possible to be pain-free and still need a root canal.
What is Involved in a Root Canal Procedure?
The endodontist examines the x-ray and the tooth, then administers a local anesthetic. After the tooth is numbed, a small protective sheet, called a dental-dam is placed to isolate the tooth, a small opening will be made in the crown of the tooth and small instruments will be used to clean the canals and to shape the canal spaces for filling. Once the canals have been adequately cleaned and shaped, the canals will then be filled with a rubber-like material called "gutta-percha" and sealer. A temporary filling is then placed to close the opening. Your dentist will remove the temporary filling before the tooth is restored.
Is the Root Canal Procedure Painful?
With modern techniques and anesthetics the procedure is much faster and with less discomfort than there has ever been. Dr. Bryan is expert at achieving anesthesia in inflamed cases. Even patients who have a history of difficulty in getting numb experience profound numbness. Some of the anesthetic agents last for up to six hours, but for patient's who have been in pain for a day or two this is a blessing. Some patients delay treatment for fear of pain, thus allowing the inflamation to reach unbearable limits. This is the pain associated with root canals. After undergoing treatment, they often experience immediate relief and express regret for having postponed treatment. Patients undergoing routine root canal treatment may have mild soreness when chewing but that usually goes away in a day or two.
Will I Feel Anything After Root Canal Treatment?
In most cases the quantity and quality of discomfort will subside dramatically within the first 24-48 hours. Any sensitivity to cold, hot or even breathing air "in" will be gone after your visit. Nevertheless, you may experience mild discomfort that will last for several days after treatment. Taking over-the-counter medications such as aspirin, Advil, Motrin, or Aleve usually relieves this discomfort. Tylenol has been proven not to be as effective as aspirin, etc., because it does not have the anti-inflammatory component as these other medications. The most common complaint is tenderness to touch, bite, tapping or chewing on the tooth. It is recommended to refrain from any of the above until your dentist permanently restores your tooth.
What is dental pulp?
The dental pulp is the blood and nerve supply contained in the pulp chamber and roots of each individual tooth. Pulp is important in the growth and development of the tooth. In adult teeth, it is responsible for the mature internal tooth structure, called dentin. Over our lifetime continued deposition of dentin strengthens the tooth in response to chewing and function. It also provides a limited repair mechanism for injury to the tooth.
How will my tooth feel after root canal therapy?
You will have immediate relief from hot or cold hypersensitivity in that tooth. Patients assume their tooth or the nerve will be "dead". It is still very much attached to your body and functions just as any other tooth.
Can a root canal tooth still get a cavity?
Yes, only without the nerve, you would not feel it because the nerve acts as an internal warning system. Root canal teeth are not more susceptible to decay than your other teeth, and proper brushing and flossing will help prevent decay. Your family dentist checks your teeth for decay during your six-month checkup. He/she also examines your teeth for broken or loose restorations, cracks, any signs of gum disease (periodontitis), problems with your bite, and performs a cancer screen.
Why can't I just take antibiotics?
Antibiotics are carried through the body via the bloodstream. The pulpal blood supply is very limited and diminishes quickly when inflammation or infection occurs. Antibiotics cannot enter into the tooth roots and the root canal system becomes a perfect bacterial breeding ground protected from tooth paste, mouthrinses, and your own immune system. Bacteria may enter the tooth by decay, cracks, or old restorations. The microscopic pathways are interstate freeways for bacteria. There are approximately 500 different species of bacteria that live in the mouth, and in any single infected tooth there may 10-15 different species. Antibiotics may provide short term relief by attacking the infection outside the roots of the tooth.
Will the abscess affect my other teeth or my body?
Teeth are individual members and do not share the same pulpal blood or nerve supply. 99% of teeth requiring root canal treatment have bacterial contamination with the source of the bacteria being the mouth. Multiple abcessed teeth may occur, but each tooth has been compromised separately. Systemic infection from an abcess does not occur in people with a healthy immune system, nor does the infection throw out "seeds" of infection that localize in other parts of your body.
What are the alternatives to root canal treatment?
One alternative is to do nothing. Few patients find this an acceptable alternative as any discomfort they are experiencing will usually increase as the level of inflammation increases. While not all abcessed teeth elicit pain, bone destruction or cracks in the teeth will continue to expand such that the teeth cannot be saved even when root canal treatment is undertaken.
Extraction is the other alternative. Removal of the tooth eliminates the source of the problem, but introduces a new question. How do we replace the missing tooth? Replacement of the tooth may not only compromise teeth adjacent to the space, but is often more costly. If the tooth is not replaced, shifting of the remaining teeth may lead to exposed root surfaces, junctions that are difficult to cleanse making decay more likely, and periodontal problems.
How does the type of restoration (filling) affect treatment?
The type of restoration present is based on prior decay or injury as well as the function and position of the tooth in the mouth. Since most dental abcesses are the result of bacterial contamination, the first step to relieving the problem is to eradicate any decay, which is simply bacterial infection of the tooth structure. The more restorations present in a tooth, the more cumulative damage to the pulp. Any tooth with a crown may be considered to have a "battered pulp" as this is a large, strong restoration usually placed when not enough tooth structure remains to support a filling. Any tooth that has decay adjacent to the margin of the restoration is providing a freeway for bacterial penetration. These restorations must be replaced to avoid a recurrent abcess. Older restorations are more likely to have defective margins. Crowns and bridges complicate treatment in two ways. Radiographically we cannot see through the metalwork, thereby not being able to accurately diagnose decay underneath. Secondly, working inside a tooth with a crown is similar to being in a dark tunnel. Modern illumination and magnification are essential for accuracy in a microsurgical environment.
What other factors affect root canal treatment?
The age of the patient, and the position of the teeth also may affect root canal treatment. Roots are still growing and developing until 16-21 years of age. A young child may be treated so as to preserve the pulp if possible, thus permitting mature growth and strengthening of the internal tooth structure.
As we age, the pulp chamber becomes smaller as a result of continued deposition of dentin, the internal layer of tooth structure. One analogy is the way trees add on rings of bark on the outside, dental pulp continues to add layers of dentin to the inside of the roots thus the canals become smaller as we age. This process may be accelerated by trauma or injury to the pulp. This is referred to as calcification of the internal pulp chamber and canals. Ordinarily canals may be smaller than the diameter of a hair, and when calcified they may be very difficult to find or negotiate.
The position of the teeth in the mouth affects treatment in several ways. The back teeth are obviously harder to reach, unless you are the patient with the fliptop head. Secondly, the number of roots vary with the tooth. Front teeth generally have one root and one canal but molar teeth have 2-3 roots with 3-4 canals. Rotated teeth, and teeth out of line also may pose complicating factors.
---