Maria Wyche Bryan, D.D.S.
Practice Limited to Endodontics
Due to inclement weather, our office will be closed until 1:00pm on Wednesday, January 17th.

Please call the office with any questions. And check back often for the latest updates.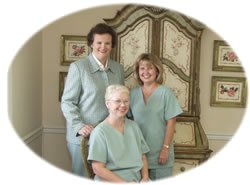 Endodontics is the branch of dentistry that specializes in the diagnosis and treatment of the dental pulp, commonly referred to as the nerve. Your dentist may refer you to an endodontist the same way your medical doctor may refer you to a surgeon for knee replacement or to an obstetrician for the care of an expectant mother. Endodontists have 2-3 years additional training after dental school for complex diagnoses, complicated root anatomy, and traumatic injuries affecting the pulp. Part of their training is differential diagnosis or learning to differentiate dental pain and symptoms apart from other sources, such as sinus pain.
Our Mission: To serve people and save teeth with
Christ-honoring care and compassion.
Locations:
150 Clinic Drive, Kingsport, TN 37663

128 Serral Drive Suite #2, Greeneville, TN 37745
E-mail: info@tricitiesendo.com
Hours:
| | | | | | | |
| --- | --- | --- | --- | --- | --- | --- |
| Monday | 8:00 | A.M. | - | 5:00 | P.M. | Kingsport |
| Tuesday | 8:00 | A.M. | - | 5:00 | P.M. | Kingsport |
| Wednesday | 8:00 | A.M. | - | 5:00 | P.M. | Kingsport |
| Thursday | 8:00 | A.M. | - | 5:00 | P.M. | Kingsport |
| Friday | 8:00 | A.M. | - | 5:00 | P.M. | Greeneville |

Maps: click here for maps
---